Otto Tinjum &
Anna Minnie Amanda Volden
Wedding 11/21/1925



Velkommen!



Updated: Jan. 20th, 2001




Wasilla, AK Time & Temp.


Jens Andersson Tynjo &
Ingeborg Henriksdtr. Sletten
Wedding 3/17/1878

Christmas Letter 2000



We have lost another leaf from the family tree. Signe Tinjum,
age 95, passed on 01/14/01. Our condolences go out to her family.
Please click on the tree to view Signe's memorial page.
Our "Relative" Links....
Click here for the family
. Please contact us if your email address does not appear on the roster or a correction is needed!


Click

to view new pictures of Tønjum area. Do you have any to share?
This is the only cross-shaped church in Sogn. It is of both architectural and liturgical interest, as the pulpit originally was placed above the altar.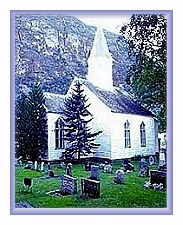 Tønjum Kyrkje, Norge (1832)
19©96 www.franksgrafikk.no


This photograph of the Tønjum Kyrkje was taken by Jan Eri a couple of years ago. For those of you who don't know or haven't heard about Jan, he is a "Norsk" cousin who lives near Oslo.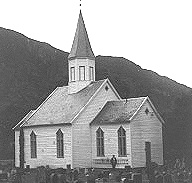 Click on the photo to learn about church history
The following are photos of the Atlanta Lutheran Church, Ulen, Minnesota. Many of the Tinjum baptisms, weddings, and funerals took place here.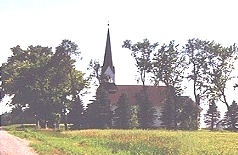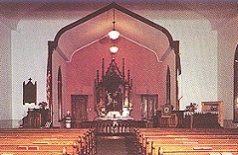 The following photos are courtesy of Ardis Grove. These shots are of the Stavekirke in Rapid City, South Dakota. The picture of the altar area shows (to the right) the leper communion window.
| | |
| --- | --- |
| | |
Family Crests
Click here for family
.(Thx Winton Fuglie, Larry Tinjum & Ron Volden!)
Click on "pointers" to go to family pages. Click here to view

photo images.
---

NILS TYNJO
Born: ?                 at:
Married: ?              at:
Died: ?                 at:
Father: ?
Mother: ?
  Wife: ?

JENS NILSSON TYNJO
Born: ABT 1608          at: Attigarden, Tynjo, gnr.16, bnr. 7
Married:                
Died: ABT 1688          at: Attigarden, Tynjo, gnr.16, bnr. 7
Father: 
Mother: 
  Wife: Guri Larsdatter N. Ljøsno 
  Born: ABT 1641        at: Nedste Ljøsno, gnr. 11       
  Died: 1716            at:
  Father:Lauritz (Lars) Nedste Ljøsno 
  Mother:Unknown  
 
CHILDREN 
 Name: Gjertrud Jensdatter 
 Born: ABT 1654         at:
 Married:               at:
 Died: 1739             at:
 Spouse: Mons Simonson Grøto  
   
 Name: Mari Jensdatter Tønjum
 Born: BEF 1667         at: Attigarden, Tynjo, gnr.16,bnr.7     
 Married:               at:  
 Died: 1714             at:
 Spouse: Bård Einarson Husum  
   
 Name: Ingeborg Jensdatter Tynjo 
 Born: BEF 1668         at: Attigarden,Tynjo,gnr.16,bnr.7
 Married:               at:
 Died: 1742             at:
 Spouse: Anders Andersson Hatleberg  
 
Husband: Bård Einarson Husum 
Born: ABT 1651          at: Husum, gnr. 51, bnr. 1  
Married:                at: 
Died: 1727              at:
Father:Einar Hallvarson Husum 
Mother:Anna Bårdsdatter Hegg 
Other Spouses:  Johannesdatter Berge  
  Wife: MARI JENSDATTER TØNJUM
  Born: BEF 1667        at: Attigarden,Tynjo,gnr.16,bnr.7
  Died:1714             at:
  Father:Jens Nilsson Tynjo 
  Mother:Guri Larsdatter N. Ljøsno 
        
CHILDREN 
 Name: Anna Bårdsdatter 
 Born:                  at:
 Married: 1720          at: 
 Died:                  at:
 Spouse: Ola Andersson N. Kvamme  
   
 Name: Rannveig Bårdsdatter 
 Born:                  at:
 Married: 1716          at:
 Died:                  at:
 Spouse: Hallstein Hallvardson Lo  
   
 Name: Jens Bårdson 
 Born: 1686             at:
 Married:               at:   
 Died: 1751             at:
 Spouse: 
   
 Name: Bård Bårdson 
 Born: 1696             at:
 Married:               at:
 Died: 1734             at:
 Spouse: 
   
 Name: Lars Bårdson 
 Born: 1697             at:
 Married:               at:
 Died: 1732             at:
 Spouse:   
   
 Name: Hallvard Bårdson Nese 
 Born: 1701             at: Nese, gnr. 52 
 Married: 1727          at:
 Died: 1745             at:
 Spouse: Guro Olsdatter Hillestad  

Husband: Lars Bårdson 
Born: 1697              at:  
Married:                at:
Died: 1732              at:
Father:Bård Einarson Husum 
Mother:MARI JENSDATTER TØNJUM
  Wife: 
  Born:                     
  Died:                     
  Father: 
  Mother:  

CHILDREN 
 Name: Ola Larsson 
 Born: 1730             at:               
 Married:               at:
 Died:                  at:
 Spouse: 

Husband: Lars Hallvardson Tråo 
Born: 1736              at: Tråo, gnr. 53 & 54,  
Married: 30 JUN 1765    at:
Died: 17 OCT 1785       at:Larsgard,Nedre Eggjo,gnr.65,bnr.6l
Father:Hallvard Bårdson Nese 
Mother:Guro Olsdatter Hillestad  
  Wife: Liv Jakobsdatter Brøyn 
  Born: ABT JUN 1739?   at: Vetle-Brøyni,gnr.76,bnr.1    
  Died: BEF 1801        at:
  Father:Jakob Jokumson Maristova 
  Mother:Mari Johannesdatter 
  Other Spouses: Nils Hanson Hegg  

CHILDREN 
 Name: Barbra Larsdatter Nedre Eggum 
 Born: 07 SEP 1773      at:   
 Married: 17 JUL 1796   at:
 Died: 16 MAY 1858      at:
 Spouse: Knud Jacobson Øvre Kvamme  
   
 Name: Jakob Larsson Larsgard 
 Born: 17 FEB 1777      at: Larsgard, Nedre Eggjo,gnr.65, bnr.6   
 Married: 06 DEC 1807   at: 
 Died: 28 DEC 1848      at:
 Spouse: Sila Eivindsdatter Bergstølen  

Husband: Bård Einarson Husum 
Born: ABT 1651          at: Husum, gnr. 51, bnr. 1
Married:                at:
Died: 1727              at:
Father:Einar Hallvarson Husum 
Mother:Anna Bårdsdatter Hegg 
Other Spouses: MARI JENSDATTER TØNJUM
  Wife:  Johannesdatter Berge 
  Born:                 at:
  Died: ABT 1680        at:
  Father: 
  Mother: 
         
CHILDREN 
 Name: Kari Baardsdatter 
 Born: ABT 1672         at:
 Married:               at:
 Died: 1740             at:
 Spouse: Ola Andersson Hatleberg  
   
 Name: Einar Bårdson 
 Born: ABT 1678         at:
 Married:               at:
 Died: 1718             at:
 Spouse: 

Husband: Anders Andersson Hatleberg 
Born: 1661              at: Hatleberg, gnr. 57, bnr. 1  
Married:                at:
Died: 1733              at: Attigarden, Tynjo, gnr. 16, bnr. 7
Father:Anders Anderson Eråker 
Mother:Gunnvor Olsdatter Øvre Voll  
  Wife: INGEBORG JENSDATTER TYNJO 
  Born: BEF 1668        at: Attigarden, Tynjo, gnr.16,bnr.7    
  Died: 1742            at:
  Father:Jens Nilsson Tynjo 
  Mother:Guri Larsdatter N. Ljøsno  

CHILDREN 
 Name: Jens Andersson Tynjo 
 Born: 1689             at: Attigarden, Tynjo, gnr.16, bnr. 7  
 Married: 1726          at: 
 Died: 1769             at: Attigarden, Tynjo, gnr.16, bnr. 7  
 Spouse: Ragnhild Sjursdatter  

JENS ANDERSSON TYNJO 
Born: 1689              at: Attigarden, Tynjo, gnr.16, bnr. 7
Married: 1726           at:
Died: 1769              at: Attigarden, Tynjo, gnr.16, bnr. 7
Father:Anders Andersson Hatleberg 
Mother:Ingeborg Jensdatter Tynjo 
  Wife: Ragnhild Sjursdatter 
  Born: ABT 1707        at:       
  Died: 1769            at: Attigarden,Tynjo,gnr.16,bnr. 7     
  Father: 
  Mother:  

CHILDREN 
 Name: Anders Jensson Tynjo 
 Born: 1730             at: Attigarden, Tynjo, gnr.16, bnr. 7    
 Married: 1752          at: 
 Died: 1773             at: Attigarden, Tynjo, gnr.16, bnr. 7    
 Spouse: Brita Baltzarsdatter Grøto  

ANDERS JENSSON TYNJO
Born: 1730              at: Attigarden, Tynjo, gnr.16, bnr. 7
Married: 1752           at:
Died: 1773              at: Attigarden, Tynjo, gnr.16, bnr. 7
Father:Jens Andersson Tynjo 
Mother:Ragnhild Sjursdatter  
  Wife: Brita Baltzarsdatter Grøto 
  Born: ABT 1732        at: Frammistova,Grøto,gnr.13,bnr.3
  Died: 1773            at: Attigarden,Tynjo,gnr.16,bnr.7
  Father:Baltzar Øysteinson Rå? 
  Mother:Guri Nilsdatter Mo  

CHILDREN 
 Name: Anna Andersdatter
  (FURULI & SKJÆR/TORGERSON)  
 Born: 1753             at:
 Married: 1779          at:
 Died: 1820             at:
 Spouse: Nils Ingvardson Tynjo  
   
 Name: Jens Andersson 
 Born: 1755             at:
 Married:               at:
 Died:                  at:
 Spouse: 
   
 Name: Jens Andersson 
 Born: 1757             at:
 Married:               at:
 Died:                  at:
 Spouse:  
  
 Name: Jens Andersson 
 Born: 1759             at: Tønjum, gnr. 16, bnr. 7         
 Married: 1782          at:
 Died: 1824             at:
 Spouse: Ingeborg Olsdatter Ø. Ljøsno  
   
 Name: Guro Andersdatter Tynjo
  (GRØTTEBØ) 
 Born: 1761             at: Attigarden, Tynjo,gnr.16, bnr.7 
 Married:               at:   
 Died: 1846             at:
 Spouse: Ola Johanneson Vinjum  
   
 Name: Anders Andersson 
 Born: 1764             at:
 Married:               at:
 Died:                  at:
 Spouse: 
   
 Name: Baltzar Andersson 
 Born: 1765             at:
 Married:               at:
 Died:                  at:
 Spouse: 
 
 Name: Ragnhild Andersdatter 
 Born: 1767             at:
 Married:               at:
 Died: 1838             at:
 Spouses: Ola Larsson Ø. Ljøsno  
          Lasse Person Y. Bø  
   
 Name: Sjur Andersson 
 Born: 1770             at:
 Married:               at:
 Died:                  at:
 Spouse: 
   
 Name: Anders Andersson
  (TENJUM)   
 Born: 1773             at:
 Married: 1799          at:
 Died: 1843             at:
 Spouse: Anna Lassesdatter Mo  
 
JENS ANDERSSON
Born: 1759              at: Tønjum, gnr. 16, bnr. 7 
Married: 1782           at: 
Died: 1824              at:
Father:Anders Jensson Tynjo 
Mother:Brita Baltzarsdatter Grøto 
  Wife: Ingeborg Olsdatter Ø. Ljøsno 
  Born: 1757            at:
  Died: 1833            at:
  Father: 
  Mother:  

CHILDREN 
 Name: Brita Jensdatter 
 Born: 1783             at:      
 Married:               at:   
 Died: 1855             at:
 Spouse: 
   
 Name: Anders Jensson 
 Born: 1784             at:
 Married:               at:
 Died: 1787             at:
 Spouse: 
   
 Name: Ragnhild Jensdatter 
 Born: 1787             at:   
 Married:               at:   
 Died: 1787             at:
 Spouse: 
   
 Name: Anna Jensdatter 
 Born: 1787             at:
 Married:               at:   
 Died: 1787             at:
 Spouse: 
   
 Name: Anders Jensson 
 Born: 1788             at:
 Married:               at:   
 Died: 1793             at:
 Spouse: 
   
 Name: OLA JENSSON
 Born: 1789             at: Tønjum, gnr. 16, bnr. 7        
 Married: 1812          at:  
 Died: 1884             at:
 Spouses: Anna Johannesdatter Bruvoll Huso / Kari  
             Ingebrigtsdatter Wendelbo Raa  
   
 Name: Anders Jensson 
 Born: 1794             at:
 Married:               at:   
 Died: 1811             at:
 Spouse: 
   
 Name: Jens Jensson 
 Born: 1798             at:
 Married:               at:   
 Died:                  at:
 Spouses: 
 
OLA JENSSON 
Born: 1789              at: Tønjum, gnr. 16, bnr. 7 
Married: 1812           at:
Died: 1884              at:
Father:Jens Andersson 
Mother:Ingeborg Olsdatter Ø. Ljøsno 
Other Spouse: Kari Ingebrigtsdatter Wendelbo Raa   
  Wife: Anna Johannesdatter Bruvoll Huso 
  Born: 29 SEP 1790     at:
  Died: 18 APR 1832     at:
  Father:Johannes Toreson Bruvold Husum
  (JACKSON/MOE)   
  Mother:Kirsti Jakobsdatter Vettei  

CHILDREN 
 Name: Jens Olsson 
 Born: 1813             at:
 Married: 1832          at: 
 Died:                  at:
 Spouse: Marita Olsdatter Grøthe  
   
 Name: ANDERS OLSSON
 Born: 1817             at: Tønjum, gnr. 16, bnr. 7    
 Married: 1846          at:  
 Died: 1858                at:
 Spouse: Rannveig Torsteinsdatter Horge  
   
 Name: Johannes Olsson 
 Born: 1820             at:
 Married: 1852          at:  
 Died:                  at:
 Spouse: Barbra Monsdatter Ø. Kvame  
   
 Name: Ola Olsson 
 Born: 1823             at:
 Married:               at:   
 Died: 1826             at:
 Spouse: 
   
 Name: Anna Olsdatter 
 Born: 1825             at:
 Married:               at:     
 Died: 1841             at:
 Spouse: 
 
ANDERS OLSSON 
Born: 1817              at: Tønjum, gnr. 16, bnr. 7 
Married: 1846           at:   
Died: 1858              at:
Father:Ola Jensson 
Mother:Anna Johannesdatter Bruvoll Huso 
  Wife: Rannveig Torsteinsdatter Horge 
  Born: 1814            at:
  Died: 16 DEC 1895     at: Minnesota, USA   
  Father: 
  Mother:  

CHILDREN 
 Name: Ola Andersson 
 Born: 1846             at:   
 Married:               at:   
 Died:                  at:
 Spouse: 
   
 Name: Jens Andersson 
 Born: 1847             at:               
 Married:               at:   
 Died:                  at:
 Spouse:
 
 Name: JENS ANDERSSON TYNJO
 Born: 03 MAR 1849      at: Attigarden, Tynjo, Gnr. 16, Bnr.7         
 Married: 17 MAR 1878   at: Ulen, Minnesota, USA   
 Died:                  at: Ulen, Minnesota, USA
 Spouse: Ingeborg Henriksdatter Sletten 
 




Ingeborg's birthplace
Arheim Husmansplass Øvre Qvamme


Photos courtesy of Winton Fuglie (1976)
Grandson of Hans (Henriksson) Hogenson


  
 Name: Torstein Andersson 
 Born: 1851             at: 
 Married: 1877          at:  
 Died: 1913             at:
 Spouse: Ragnhild Erickson  
   
 Name: Anna Andersdatter 
 Born: 1854             at:
 Married: 1878          at:  
 Died: 1929             at:
 Spouse: Christ Christopherson  

Torstein Andersson Tynjo (Thomas Anderson)
Born: 10 OCT 1851        at:               
Married: 1877            at:
Died:  23 AUG 1913       at:     
Father:Anders Olsson 
Mother:Rannveig Torsteinsdatter Horge  
  Wife: Ragnhild (Rose) Erickson 
  Born: 02 SEP 1857      at: Norway       
  Died: 05 MAR 1925      at:       
  Father: 
  Mother:  

CHILDREN 
 Name: Amos Anderson
 Born:  1878             at: Aurora TWP, Steele Co., Minnesota  
 Married: No             at:   
 Died:                   at: *Disappeared*  
 Spouse:
 
 Name: John Christian Anderson
  
 Born:  11 APR 1879      at: Aurora TWP, Steele Co., Minnesota
 Married:                at:   
 Died:  00 DEC 1930      at:   
 Spouse: Mathilda Steffan
   
 Name: Ole Anderson
 Born:  25 DEC 1881      at:  Aurora TWP, Steele Co., Minnesota
 Married:                at:   
 Died:  15 AUG 1930      at:   
 Spouse: 
   
 Name: Randi Anderson 
 Born:  12 DEC 1882      at:  Aurora TWP, Steele Co., Minnesota
 Married:                at:   
 Died:  16 MAR 1954      at:  Near Frazee, Minnesota? 
 Spouse: Edward Erickson
   
 Name: Alfred Anderson
 Born:  16 JUL 1884      at:  Aurora TWP, Steele Co., Minnesota  
 Married:                at:   
 Died:  21 SEP 1953      at:   
 Spouse: 
   
 Name: Theodore Anderson
 Born:  08 MAR 1886      at:  Aurora TWP, Steele Co., Minnesota  
 Married: No             at:   
 Died:  00 DEC 1968      at:   
 Spouse: 
   
 Name: Marie Anderson
 Born:  12 DEC 1889      at:  Aurora TWP, Steele Co., Minnesota
 Married:                at:   
 Died:  10 SEP 1890      at:   
 
 Name: Marcus Anderson
  
 Born: 15 MAR 1891       at:  Aurora TWP, Steele Co., Minnesota
 Married:                at:   
 Died: 26 JUL 1946       at:   
 Spouse: Beatrice Moe

 Name: Malena Anderson
  
 Born: 05 OCT 1893     
 at:  Aurora TWP, Steele Co., Minnesota
 Married: 03 JUN 1916    at:   
 Died:                   at:   
 Spouse: Carl Christianson
 
 Name: Joseph Anderson
  
 Born: 28 JAN 1895       at:  Aurora TWP, Steele Co., Minnesota
 Married:                at:  St. Paul, Minnesota, USA 
 Died:                   at:   
 Spouse: Laura Selthum
 
 Name: Anna Anderson 
 Born: 29 JAN 1897       at:  Aurora TWP, Steele Co., Minnesota
 Married:                at:   
 Died: 04 JUL 1906       at:   
 Spouse: 
   
 Name: Carl Anderson
 Born:  07 APR 1899      at:  Aurora TWP, Steele Co., Minnesota
 Married: No             at:   
 Died:  00 APR 1970      at:   
 Spouses: 
   
 Name: Walter Anderson
 Born:  20 APR 1904      at:  Aurora TWP, Steele Co., Minnesota
 Married:                at:   
 Died:   1996?           at:  Retired from R.R. in Owatonna, MN
 Spouses: 

Husband: Christ Christopherson 
Born: 22 SEP 1855        at: Norway        
Married: 19 MAY 1877     at: Owatonna, Steele Co.,Minnesota           
Died: 07 JUL 1934        at:  Carpio, North Dakota?       
Father: 
Mother: 
  Wife: Anna Anderson Tynjo
  Born: 11 SEP 1854      at:       
  Died: 20 DEC 1929      at:      
  Father:Anders Olsson 
  Mother:Rannveig Torsteinsdatter Horge


Christ & Anna Christopherson
Photo courtesy of Larry Tinjum

  

CHILDREN 
 Name: Martha Christopherson
 Born:  22 DEC 1878      at:  Near Owatonna, Minnesota 
 Married:                at:   
 Died:   1948            at:   
 Spouse: 
   
 Name: Olaus Christopherson
 Born:  27 AUG 1879      at:  Near Owatonna, Minnesota
 Married:                at:   
 Died:                   at:   
 Spouse: 
   
 Name: Andrew Christopherson
 Born:  15 MAY 1881      at:  Lien TWP, Grant Co., Minnesota
 Married:                at:   
 Died:                   at:   
 Spouse: 
   
 Name: Martin Christopherson
 Born:  15 NOV 1882      at:  Lien TWP, Grant Co., Minnesota
 Married:                at:   
 Died:                   at:   
 Spouse: 
   
 Name: Emma Christopherson
  
 Born:   25 SEP 1883     at:  Lien TWP, Grant Co., Minnesota 
 Married: 30 JUN 1904    at:   
 Died:   29 APR 1958     at:   
 Spouse: Joseph E. Stoa
   
 Name: Mathilda Christopherson
 Born:  12 APR 1885      at:   Lien TWP, Grant Co., Minnesota
 Married:                at:   
 Died:                   at:   
 Spouse: 
   
 Name: Jessie Christopherson
 Born:  26 SEP 1887      at:   Lien TWP, Grant Co., Minnesota
 Married:                at:   
 Died:   1905            at:   
 Spouse: 
   
 Name: Oscar Christopherson
  
 Born:  20 MAY 1889      at:   Lien TWP, Grant Co., Minnesota
 Married:                at:   
 Died:  30 JAN 1960      at:   
 Spouse: Minnie Stoa



Oscar & Minnie Christopherson
Photo courtesy of Larry Tinjum

   
 Name: Effie Christopherson
 Born: 12 JAN 1891       at:   Lien TWP, Grant Co., Minnesota
 Married:                at:   
 Died:  1918             at:   
 Spouse: 
   
 Name: Mabel Christopherson
 Born:  27 FEB 1893      at:   Lien TWP, Grant Co., Minnesota
 Married:                at:   
 Died:                   at:   
 Spouse: 
   
 Name: Hazel Christopherson
 Born: 22 MAY 1895       at:  Lien TWP, Grant Co., Minnesota
 Married:                at:   
 Died:                   at:   
 Spouse: 
   
 Name: Gustav Christopherson
 Born:  1897             at:  Lien TWP, Grant Co., Minnesota 
 Married:                at:   
 Died:  1897             at:   
 Spouse: 
   
 Name: Myrtle Christopherson
 Born: 25 DEC 1898       at:   Lien TWP, Grant Co., Minnesota
 Married:                at:   
 Died:  1918             at:   
 Spouse: 
   
 Name: Nina Christopherson
 Born: 18 OCT 1900       at:  Lien TWP, Grant Co., Minnesota 
 Married:                at:   
 Died:                   at:   
 Spouse: 
 
JENS ANDERSSON TYNJO (TINJUM) 
Born: 03 MAR 1849        at: Attigarden, Tynjo, Gnr. 16, Bnr. 7
Married: 17 MAR 1878     at:  
Died:                    at:
Father:Anders Olsson 
Mother:Rannveig Torsteinsdatter Horge 
  Wife: Ingeborg Henriksdatter Sletten 
  Born: 16 MAY 1862      at: 
  Died: 09 MAR 1929      at:
  Father:Henrik Håkonson Sletten 
  Mother:Mari Hansdatter Kallevang





Jens & Ingeborg Tinjum Family


Jens & Ingeborg's Home 

Photos courtesy of Ginny (Tinjum) Johnson
 




CHILDREN 
 Name: Anna Tinjum
  
 Born: 15 DEC 1878       at: Owatonna, Minnesota, USA
 Married:                at: 
 Died: 1935              at: Ellendale, North Dakota, USA    
 Spouse: William Curry
  
 
Anna (Tinjum) Curry
Photo courtesy of Ron Chrislock
   
   
 Name: Henrik Tinjum
  
 Born: 27 MAR 1880       at: Owatonna, Minnesota, USA   
 Married: ABT 1902       at:    
 Died: 06 JUL 1920       at:    
 Spouse: Clara Skrien  
   
 Name: Richard Tinjum
  
 Born: 16 AUG 1881       at: Near Ulen, Minnesota, USA   
 Married: 02 JUL 1908    at: Ulen, Minnesota, USA       
 Died: 27 SEP 1950       at: Powers Lake,N. Dakota,USA  
 Spouse: Minnie Morken




Richard & Minnie (Morken) Tinjum
Photos courtesy of Larry Tinjum

Minnie Morken

Richard Tinjum





 Name: Julius Tinjum 
 Born: 21 DEC 1882       at: Ulen, Minnesota, USA   
 Married:                at:  
 Died: 1938              at: California, USA 
 Spouse: Emma Marie Anderson  
   
 Name: Oscar Tinjum 
 Born: 09 JUN 1884       at: Ulen, Minnesota, USA   
 Married:                at:     
 Died: ABT 1907          at:
 Spouse: 
   
 Name: Marie Tinjum
  
 Born: 01 FEB 1886       at: Ulen, Minnesota, USA   
 Married: 22 DEC 1909    at: Detroit Lakes, MN, USA
 Died: 15 APR 1963       at: 
 Spouse: Albert Anderson
  
 
Albert & Marie (Tinjum) Anderson
Photo courtesy of Larry Tinjum 
  
 Name: Bennie Tinjum 
 Born: 09 MAY 1887       at: Ulen, Minnesota, USA   
 Married:                at:    
 Died: 05 MAR 1913       at:
 Spouse: 




Bennie Tinjum
Photo courtesy of Larry Tinjum


  
   
 Name: OTTO TINJUM
 Born: 09 FEB 1888        
 Married: 21 NOV 1925                   
 Died: 29 APR 1966        
 Spouse: Anna Minnie Amanda Volden



Anna Minnie Amanda

Otto & Minnie Tinjum Family 




 Name: John Enman Tinjum
  
 Born: 27 JUL 1891       at: Ulen, Minnesota, USA   
 Married: 28 MAR 1911    at:    
 Died: 1921              at:
 Spouse: Grace Viola Morris 




John Enman Tinjum
Photo courtesy of Larry Tinjum


  
 Name: Theodore Tinjum
  
 Born: 09 NOV 1893       at: Ulen, Minnesota, USA   
 Married: 09 MAY 1925    at: 
 Died: 05 SEP 1969       at: Fargo, North Dakota, USA
 Spouse: Signe Bergseng






Theodore & Signe Tinjum 

...and family
Photos courtesy of Ginny (Tinjum) Johnson 

Tinjum Reunion - 1998..






 Name: Alvin Tinjum
 Born: 13 SEP 1894       at: Ulen, Minnesota, USA   
 Married:                at:     
 Died: 25 JUL 1965       at: Ulen, Minnesota, USA   
 Spouse:




Alvin Tinjum
Photo courtesy of Ginny (Tinjum) Johnson 


  
 Name: Tillie Tinjum
  
 Born: 26 JUN 1897       at: Ulen, Minnesota, USA   
 Married: 22 NOV 1927    at: Detroit Lakes, USA 
 Died: 14 APR 1983       at: Moorhead, Minnesota, USA   
 Spouse: Sigvart P. Melby




Sigvart & Tillie (Tinjum) Melby
Photo courtesy of Larry Tinjum
 




 Name: Irene Sophia Tinjum
  
 Born: 27 FEB 1900       at: Ulen, Minnesota, USA   
 Married:                at:    
 Died: 23 JUN 1947       at: South Dakota, USA      
 Spouse: 
   
 Name: Clayton Tinjum
  
 Born: 18 JUN 1901       at: Ulen, Minnesota, USA   
 Married:                at:     
 Died: 1921              at: Ulen, Minnesota, USA   
 Spouse: 
   
 Name: Martin Tinjum
  
 Born: 09 SEP 1902       at: Ulen, Minnesota, USA   
 Married: 28 FEB 1925    at: Casper, Wyoming, USA    
 Died: 06 JAN 1970       at: Ulen, Minnesota, USA       
 Spouse: Luella Delphine  
   
 Name: Hazel Tinjum 
 Born: 09 SEP 1902       at: Ulen, Minnesota, USA   
 Married:                at:    
 Died: 1905              at: Ulen, Minnesota, USA   
 Spouse: 

OTTO TINJUM 
Born: 09 FEB 1888        at:
Married:                 at:
Died: 29 APR 1966        at: Frazee, Minnesota, USA
Father:Jens Andersson Tynjo 
Mother:Ingeborg Henriksdatter 
  Wife: Anna Minnie Amanda Volden 
  Born: 05 DEC 1898      at: 
  Died: 02 NOV 1984      at:   
  Father: Peder Nilsen
  Mother: Mary Anderson Volden




CHILDREN 
 Name: Milton Manford Tinjum
  
 Born: 02 MAR 1926        
 Married:                    
 Died:                    
 Spouse 1: Florence Zdeb
 Spouse 2: ?
 Spouse 3: Shirley ?


Milton (Tex) & Florence (Zdeb) Tinjum
  
   
 Name: Elizabeth Marie Tinjum
  
 Born: 02 MAY 1927      at:  
 Married:               at:  
 Died: 21 SEP 1978      at:
 Spouse: A. Joseph Baana


Betty Tinjum


 Name: Donald Arthur Tinjum
  
 Born: 06 JUN 1928      at: 
 Married: 10 JUL 1954   at:  
 Died:                  at:
 Spouse: Dorothy Marie Pinter




Donald & Dorothy (Pinter) Tinjum



 Name: JENS RAYMOND TINJUM
 Born: 09 JAN 1930      at: Ogema, Minnesota, USA
 Married:08 NOV 1952    at:                 
 Died:                  at:
 Spouse: Delores Lorraine Wolff  





Jens & Delores (Wolff) Tinjum
~ Our wonderful parents ~
 ~We dedicate this to you~







 Name: Norma M. Tinjum
  
 Born: 12 NOV 1931      at:  
 Married: 17 JUN 1950   at:  
 Died:                  at:
 Spouse: Earl Pederson
  
 
Earl & Norma (Tinjum) Pederson

  
 Name: Ardis Lucille Tinjum
  
 Born: 22 AUG 1933      at: Ulen, Minnesota, USA   
 Married: 16 AUG 1953   at:       
 Died:                  at:
 Spouse: Lyle Tilford Grove
  

Lyle & Ardis (Tinjum) Grove

   
 Name: Loren Herbert Tinjum
  In Memory..  
 Born: 22 JAN 1936      at: Ulen, Minnesota, USA   
 Married: No                    
 Died: 25 NOV 1999      at: Frazee, Minnesota, USA                 
 
 

Loren Tinjum
A hero to us all...

   
 Name: Wayne Arden Tinjum
  
 Born: 03 DEC 1937      at: Ulen, Minnesota, USA   
 Married: 01 NOV 1962   at:        
 Died:                  at:
 Spouse: Janice Marie Lange 
 

Wayne & Janice (Lange) Tinjum

   
JENS RAYMOND TINJUM
Born: 09 JAN 1930       at: Ogema, Minnesota, USA   
Married: 08 NOV 1952    at:                    
Died:                   at:  
Father: Otto Tinjum 
Mother: Anna Minnie Amanda Volden 
  Wife: Delores Lorraine Wolff 
  Born: 16 JUL 1931     at: Park Rapids, Minnesota, USA
  Died:                 at:    
  Father: Oscar Wolff
  Mother: Hilda Wolff




Jens, one of my favorite photos




CHILDREN 
 Name: Lois Ann Tinjum 
 Born: 11 MAR 1955      at: Rapid City, S. Dakota, USA 
 Married: 24 AUG 1973   at: Kenai, Alaska USA  
 Died:                  at:  
 Spouse: Carroll Wetzel (div)




Lois (Tinjum) Wetzel 




Husband: Carroll Wetzel 
Born: 24 DEC 1954       at: Levelland, Texas, USA 
Married: 24 AUG 1973    at: Kenai, Alaska, USA   
Died:                   at:    
Father: Carl Wetzel 
Mother: Lynn Walker 
  Wife: LOIS ANN TINJUM (div)
  Born: 11 MAR 1955     at: Rapid City, S.Dakota, USA 
  Died:                 at:    
  Father:Jens Raymond Tinjum 
  Mother:Delores Lorraine Wolff  

CHILDREN 
 Name: Tyson Otto Wetzel 
 Born: 06 APR 1975      at: Soldotna, Alaska, USA  
 Married:               at:      
 Died:                  at:
 Spouse:




Tyson Otto Wetzel 




 Name: Tara Lea Wetzel 
 Born: 07 SEP 1977      at: Soldotna, Alaska, USA  
 Married:                     
 Died: 16 JUN 1989      at: Cook Inlet, Alaska, USA  
 Spouse:




Tara Lea Wetzel
One of our last photos.. 



 Name: Travis Raymond Wetzel 
 Born: 04 JUN 1980      at: Soldotna, Alaska, USA  
 Married:               at:      
 Died:                  at:
 Spouse:




Travis Raymond Wetzel 



 Name: LORENE RAE TINJUM
 Born: 20 DEC 1957      at: Deadwood, South Dakota, USA 
 Married:               at:      
 Died:                  at:   
 Spouse: 




Lorene (Lori) Rae Tinjum 










John Kristian TØNJUM Line of Descendants... 

ANDERS ANDERSSON 
Born: 1773              at: 
Married: 1799           at:
Died: 1843              at:
Father:Anders Jensson Tynjo 
Mother:Brita Baltzarsdatter Grøto 
  Wife: Anna Lassesdatter Mo 
  Born: 1774 
  Died: 
  Father: 
  Mother: 

CHILDREN 
 Name: Jens Andersson Kartane 
 Born: 1794             at:
 Married: 1830          at:
 Died: 1862             at:
 Spouse: Kari Olsdatter N. Krossbakken 

 Name: Anders Andersson 
 Born: 1799             at: 
 Married:               at:
 Died: 1869             at:
 Spouse: 

 Name: Brita Andersdatter 
 Born: 1803             at: 
 Married:               at:
 Died: 1892             at:
 Spouse: 

 Name: Ingeborg Andersdatter Kartane 
 Born: 1808             at: 
 Married:               at:
 Died:                  at:
 Spouses: Per Larsson Bjørkum 
          Anders Monsson Y. Bø 

JENS ANDERSSON KARTANE 
Born: 1794              at:
Married: 1830           at:
Died: 1862              at:
Father:Anders Andersson 
Mother:Anna Lassesdatter Mo 
  Wife: Kari Olsdatter N. Krossbakken 
  Born: 1793            at: 
  Died: 1870            at:
  Father: 
  Mother: 

CHILDREN 
 Name: Ola Jensson 
 Born: 1839             at: 
 Married: 1861          at:
 Died: 1880             at:
 Spouse: Brita Andersdatter Moldo 

OLA JENSSON 
Born: 1839              at: 
Married: 1861           at:
Died: 1880              at:
Father:Jens Andersson Kartane 
Mother:Kari Olsdatter N. Krossbakken 
  Wife: Brita Andersdatter Moldo 
  Born: 1840            at:
  Died: 1926            at:
  Father: 
  Mother: 

CHILDREN 
 Name: Kari Olsdatter 
 Born: 1861             at: 
 Married:               at:
 Died:                  at:
 Spouse: 

 Name: Anders Olsson 
 Born: 1863             at: 
 Married:               at:
 Died:                  at:
 Spouse: 

 Name: JENS OLSSON
 Born: 1865             at: 
 Married: 1894          at:
 Died:                  at:
 Spouse: Sønneva Henriksdatter Blaaflat




Jens Olsson & 
Sønneva Henriksdtr. Blaaflat
Photo courtesy of John Tønjum 



 Name: Ola Olsson
  (TONJUM)   
 Born: 1868             at: 
 Married:               at:
 Died: 1938             at: Owatonna, Minnesota, USA 
 Spouse: 

 Name: Anders Olsson 
 Born: 1870             at: 
 Married:               at:
 Died:                  at:
 Spouse: Maren Andersdatter Mjoldo 

 Name: Anna Olsdatter 
 Born: 1873             at: 
 Married:               at:
 Died:                  at:
 Spouse: 

 Name: Johan Olsson 
 Born: 1875             at: 
 Married:               at:
 Died:                  at:
 Spouse: Martha? 

 Name: Brita Olsdatter 
 Born: 1878             at: 
 Married:               at:
 Died:                  at:
 Spouse: 

JENS OLSSON 
Born: 1865              at: 
Married: 1894           at:
Died:                   at:
Father:Ola Jensson 
Mother:Brita Andersdatter Moldo 
  Wife: Sønneva Henriksdatter Blaaflat 
  Born: 1865            at: 
  Died:                 at:
  Father: 
  Mother: 

CHILDREN
 Name: Brita 
 Born:                  at: 
 Married:               at:
 Died:                  at:
 Spouse: 

 Name: Henrik 
 Born:                  at:
 Married:               at:
 Died:                  at:
 Spouse: 
 
 Name: Ingeborg 
 Born:                  at: 
 Married:               at:
 Died:                  at:
 Spouse: 
 
 Name: OLE TØNJUM
 Born: 13 SEP 1903      at: 
 Married: 1933          at:
 Died: 09 SEP 1968      at:
 Spouse: Elise Nygard 

 Name: Jenny Sofie Tønjum
  
 Born: 06 AUG 1906      at: Norderhov, Norge 
 Married:               at: Norderhov Kirke 
 Died: 19 FEB 1981      at: 
 Spouse: Olav Juel Knutsen 

OLE TØNJUM 
Born: 13 SEP 1903       at: 
Married: 1933           at:
Died: 09 SEP 1968       at:
Father:Jens Olsson 
Mother:Sønneva Henriksdatter Blaaflat 
  Wife: Elise Nygard 
  Born:                 at:
  Died:                 at:
  Father: 
  Mother: 

CHILDREN 
 Name: JOHN KRISTIAN TØNJUM
 Born:    13 JUN 1933   at: 
 Married: 02 AUG 1958   at: Danmark
 Died:                  at:
 Spouse: Erna Hove 

 Name: Sonja Elisabeth 
 Born: 15 JUL 1937      at: 
 Married:               at:
 Died:                  at:
 Spouse: Ivar Andreas Melsvik 

JOHN KRISTIAN TØNJUM 
Born: 13 JUN 1933       at: 
Married:                at:
Died:                   at:
Father:Ole Tønjum 
Mother:Elise Nygard 
  Wife: Erna Hove 
  Born:                 at: Danmark 
  Died:                 at:
  Father: 
  Mother:




John Tønjum Family
Christmas, 1998
Photo courtesy of Finn Hove Tønjum 




 CHILDREN 
 Name: Pia Elisabeth Tønjum 
 Born: 18 JUN 1959      at: 
 Married:               at:
 Died:                  at:
 Spouse: 

 Name: Finn Hove Tønjum 
 Born: 08 OCT 1963      at:
 Married: 08 JUL 1988   at:
 Died:                  at:
 Spouse: Unni Olsen Bråten 

FINN HOVE TØNJUM 
Born: 08 OCT 1963       at:
Married: 08 JUL 1988    at:
Died:                   at:
Father:John Tønjum 
Mother:Erna Hove 
  Wife: Unni Olsen Bråten 
  Born:                 at:
  Died:                 at: 
  Father: 
  Mother: 

CHILDREN 
 Name: Thomas André 
 Born: 07 JAN 1989      at:
 Married:               at:
 Died:                  at:
 Spouse: 

 Name: Eirik Kristian 
 Born: 04 MAY 1998      at: 
 Married:               at:
 Died:                  at:
 Spouse: 

Husband: Ivar Andreas Melsvik 
Born: 25 DEC 1936       at:
Married:                at:
Died:                   at: 
Father: 
Mother: 
  Wife: SONJA ELISABETH 
  Born: 15 JUL 1937     at:
  Died:                 at:
  Father:Ole Tønjum 
  Mother:Elise Nygard 

CHILDREN 
 Name: Morten Melsvik 
 Born: 17 APR 1961      at: 
 Married:               at:
 Died:                  at:
 Spouse: Hanne Olsen 

 Name: Geir Melsvik 
 Born: 29 DEC 1962      at: 
 Married:               at:
 Died:                  at:
 Spouse: Åsemette Lomeland 

MORTEN MELSVIK 
Born: 17 APR 1961       at: 
Married:                at:
Died:                   at:
Father:Ivar Andreas Melsvik 
Mother:Sonja Elisabeth      
  Wife: Hanne Olsen 
  Born:                 at:
  Died:                 at:
  Father: 
  Mother: 

CHILDREN 
 Name: Silje 
 Born: 20 OCT 1982      at: 
 Married:               at:
 Died:                  at:
 Spouse: 

 Name: Lene 
 Born: 24 NOV 1985      at: 
 Married:               at:
 Died:                  at:
 Spouse: 

GEIR MELSVIK 
Born: 29 DEC 1962       at: 
Married:                at:
Died:                   at:
Father:Ivar Andreas Melsvik 
Mother:Sonja Elisabeth 
  Wife: Åsemette Lomeland 
  Born: 23 DEC 1964     at:
  Died:                 at:
  Father: 
  Mother: 

CHILDREN 
 Name: Andreas 
 Born: 16 SEP 1988      at: 
 Married:               at:
 Died:                  at:
 Spouse: 
 
 Name: Elise 
 Born: 30 APR 1992      at: 
 Married:               at:
 Died:                  at:
 Spouse: