BEFORE and AFTER shots of our new house. (Stay tuned for the changes!!)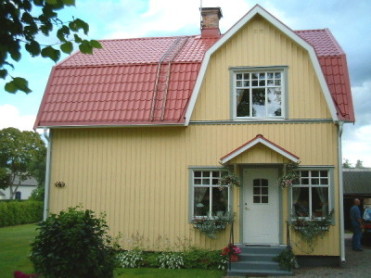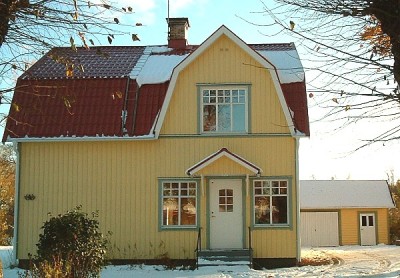 Summer shot...First snowfall...Oct. 22nd
Hey! We've finished the outbuilding!

---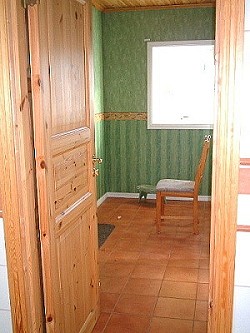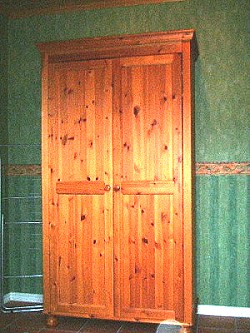 Rear entry hall BEFORE...............and AFTER.
The coat armoire is an auction find...Can you say "seventy dollars"?

---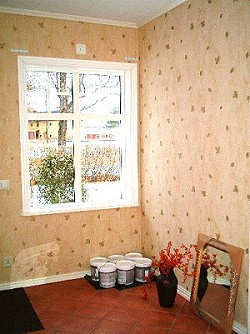 Front entry BEFORE.............and AFTER.

I've found some VERY cool antique gold beaded window treatments in the U.S. and will
take a photo of this "room" once we've papered and painted. We received a large
antique oval mirror (originally Kent's grandmother's), so will hang that in the entry
hall as well. Kent will also build a hall tree with storage bench...that's going to
really complete the look!


Bittersweet berries flown in from Mass.

---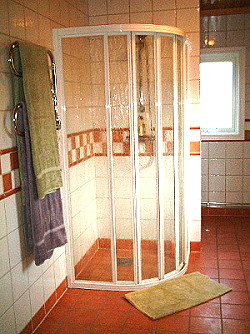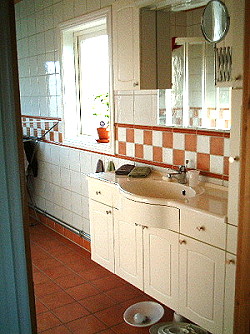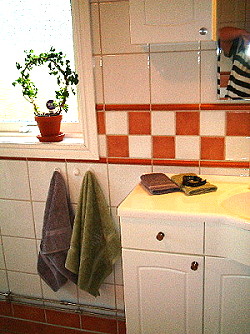 Wedding towels on display (Tusen takk, Marcy & Bob!)...new silver drawer pulls too.
---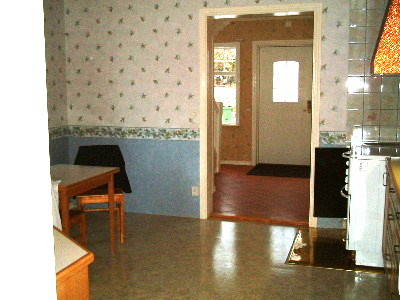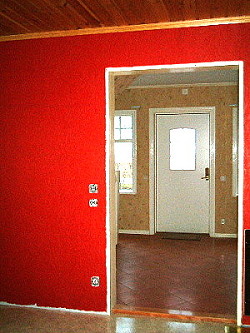 Kitchen BEFORE.............DURING.............and AFTER.
Went
BOLD
here...rust/red on walls...painting image tiles...stainless
accents with nice kitchen island under hanging stainless pot rack.
Kent has decided to construct the work island/breakfast nook himself,
and we'll install a new pine floor.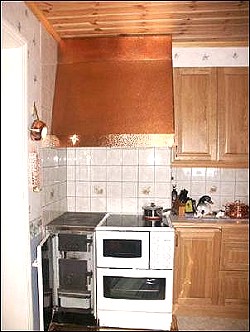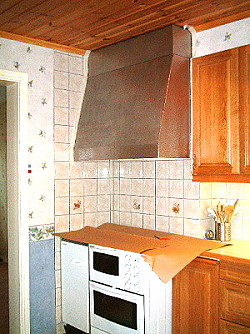 First & second coat of silver on stove hood...THIS will really change the look!
Wasn't sure WHAT to do with this large thing...but it had to be silver for sure.
We plan to update this with a nice stainless steel stove hood when we find the one
we like.

The smaller stove on the left is a woodstove. Really heats up the kitchen and it can
be used for cooking too! I'm really enjoying that.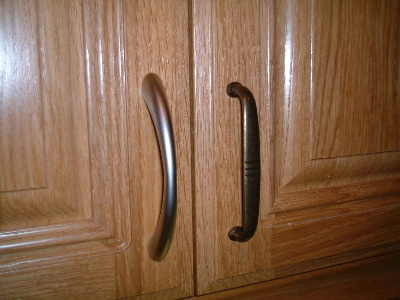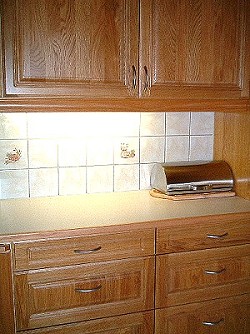 New (silver) pulls in kitchen. A REAL improvement!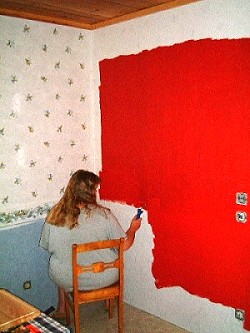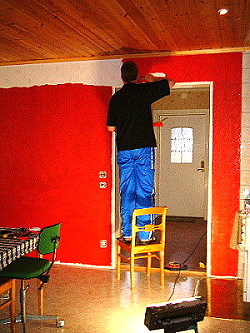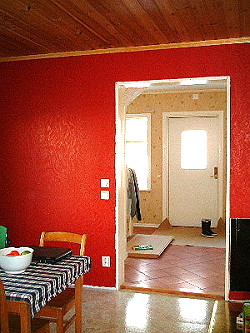 Kitchen walls look a bit scary here...but the color is nice and warm.
Another wall texturized and ready for paint....oh goody. :)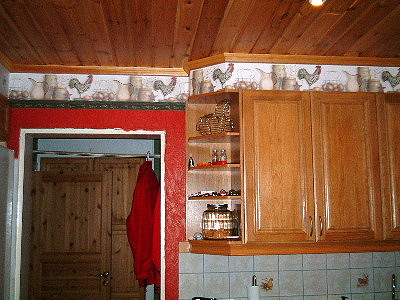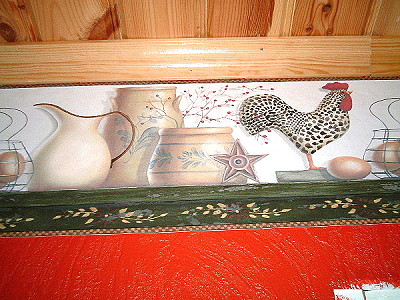 We've installed the adorable rooster (matches our everyday dishes) wallpaper border
and we really like it.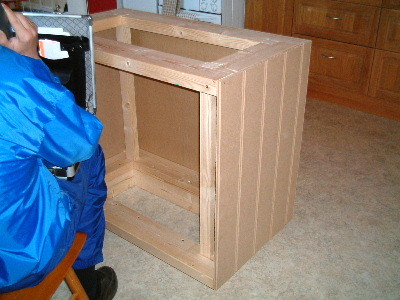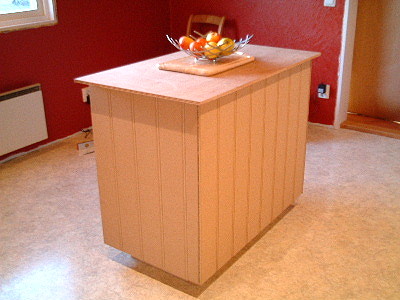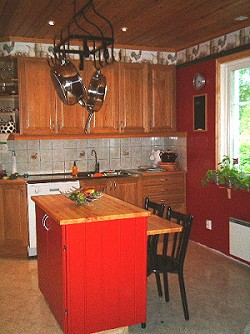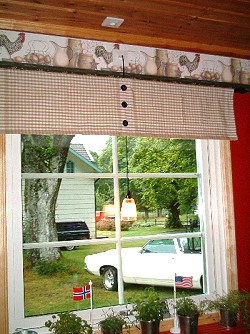 Kent's latest build project is our kitchen island...it turned out great! The hanging
pot rack was a gift from Trond and A.T..I've got new pots shined and ready to roll.
New flooring will be pine planking. That will be installed once we've finished the
guest house and rear deck (soon!)

How easy is this? Dishtowel curtains with some antique buttons!

---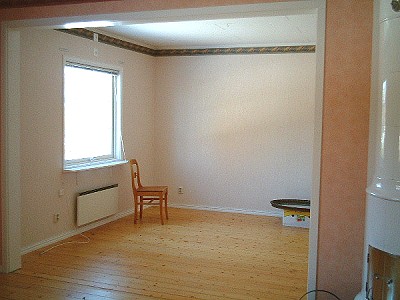 Living room BEFORE..........DURING.............and AFTER.
We're tying in the living room and dining room with a nice, warm vanilla paint color...and actually,
we've pulled a switch! The living room just couldn't accommodate
our t.v. armoire, because of the layout...so we've made the dining room our
living room and vice-versa.
Our living room is now a bit smaller, but the armoire has it's own wall near the
fireplace. We think the larger dining room is more important from an entertaining
standpoint.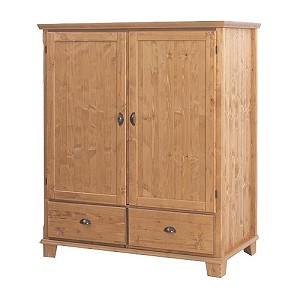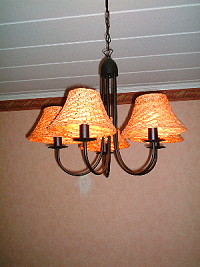 New living room furnishings. I'll use the "bookcase" to hold my growing Rosemåling
collection.

---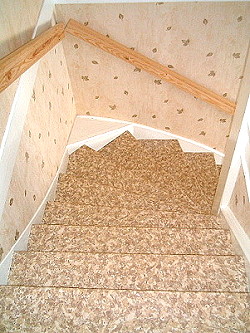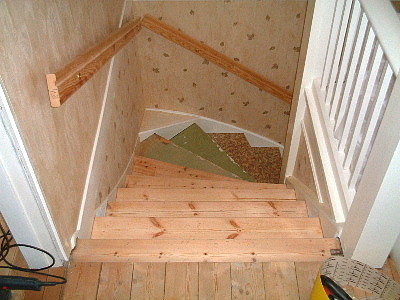 Staircase BEFORE..............DURING............and AFTER.
Has to be one of the more dramatic changes....we LOVE it!
---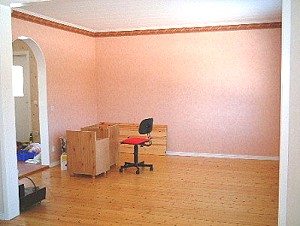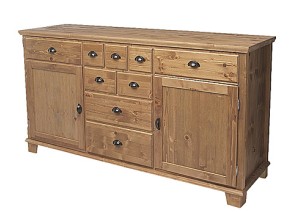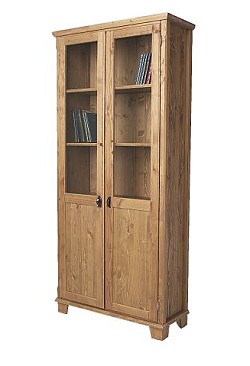 Dining room.....BEFORE....DURING......and AFTER.
Lighting fixture has candles too!
Will be SO nice to entertain during the holidays with a roaring fire...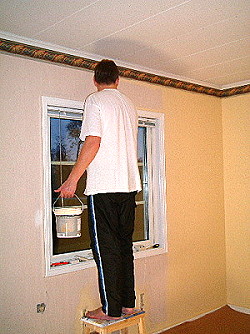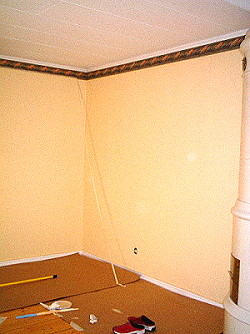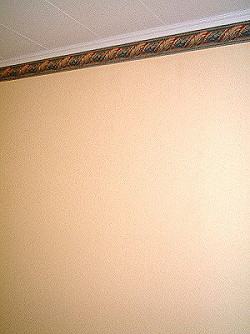 Dining room with first coat of "Vanilla" paint. Will use same in L/R. Looks
MUCH brighter now!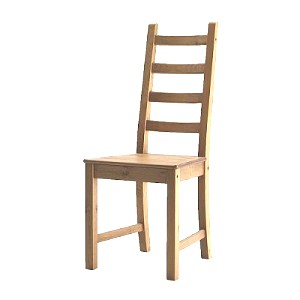 Our long table and chair style. Seating for eight.
This thing is almost 2meters in length....and it's a thick chunk of wood.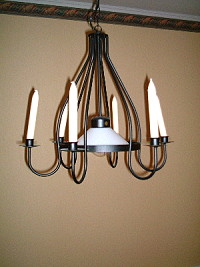 I'm thinking about three navy check/vanilla table runners (chair to chair running
across the width of the table), vanilla chair slipcovers, navy check seat cushions, etc.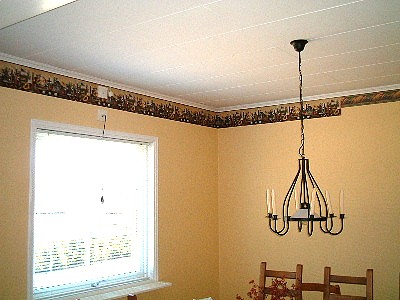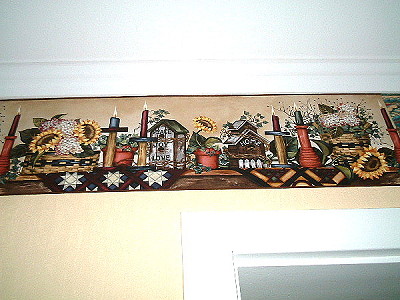 The dining room border is now up and looking good! We'll use the same in the living room.

---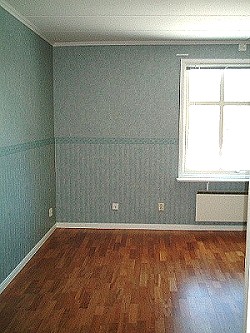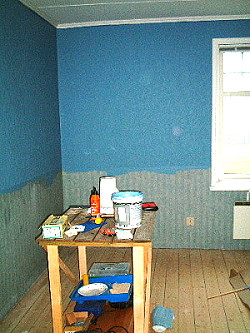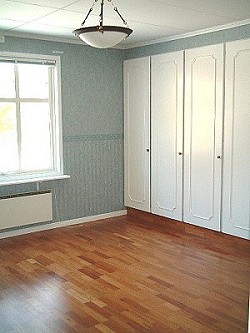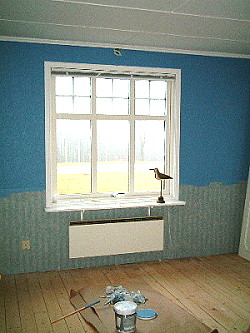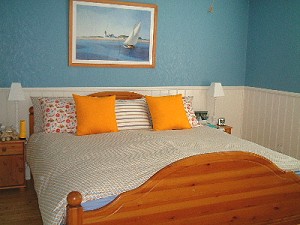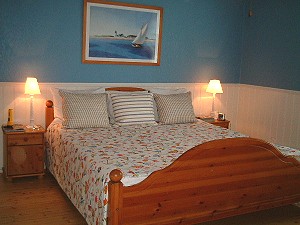 We're starting to decorate!!
Master bedroom BEFORE...........DURING.........and AFTER.
We've ditched the wallpaper and painted half the walls a nice marine blue...
Originally, we'd planned to use pine planking for the bottom (wainscot) portion,
but we decided to use MDF (Maximum Density Fiberboard) instead...won't shrink up
like the pine so will look nicer. Wainscot will of course be soft white.
We're doing the "Cape Cod" look here....sailboat, sandpiper on shelving near window,
prints of the seascapes in the area, etc..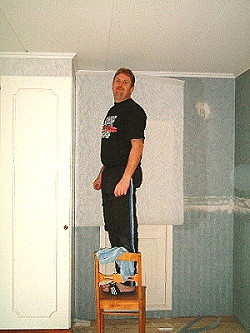 New vibrant paint over textured wallpaper. Looking GOOD!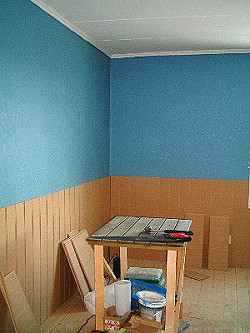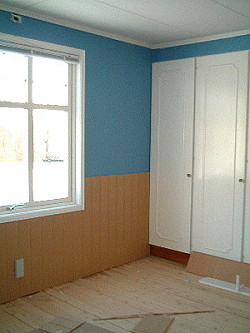 Putting the wainscotting up, priming, etc...went pretty fast.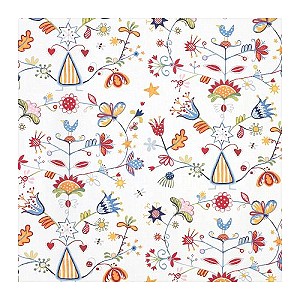 Scandinavian fabric motif (IKEA) of course!) for curtains, pillows and accents.
Love this fabric..will be nice against all the blue.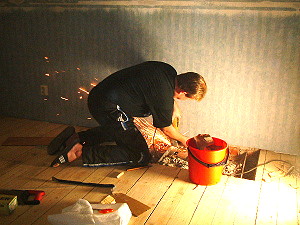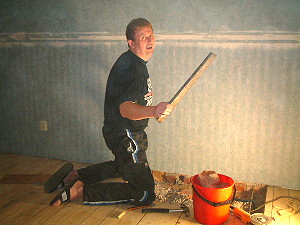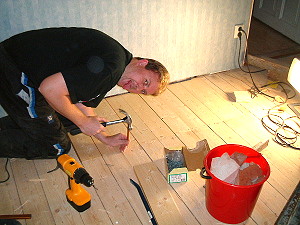 The original flooring had large, heavy iron to support the wood stove. Kent cut
these out (a WHOLE lot of sparks flying around the room!) to refinish the floor.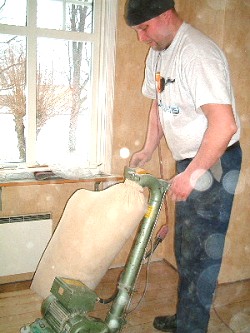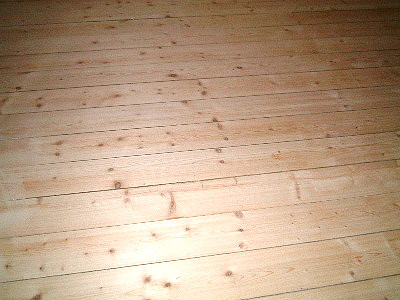 We've sanded the flooring upstairs now (thanks to Trond, Kent's brother). Here's how
great it turned out in the master bedroom.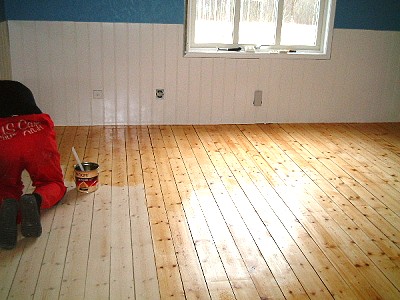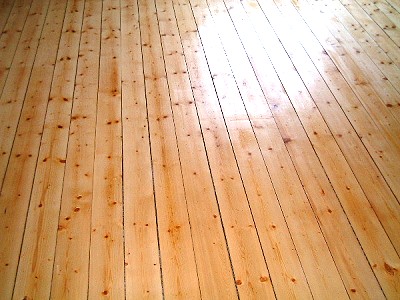 Floor varnish going on...it's looking GREAT!

---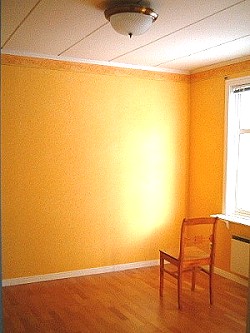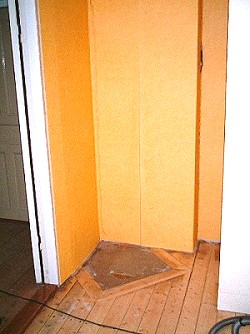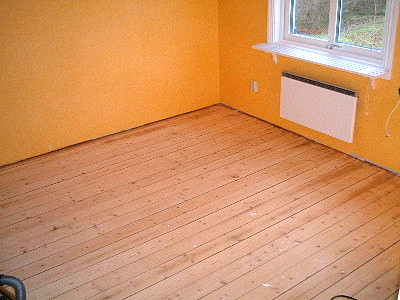 Guest Room/Office........BEFORE......DURING.......and AFTER.
We'll install a small wood stove in this room soon.
We're SO happy with the original wood flooring!
---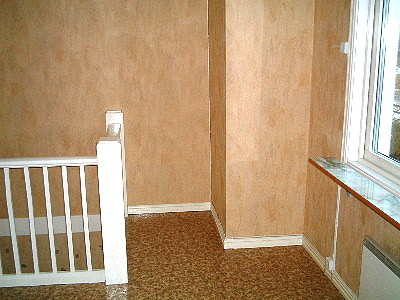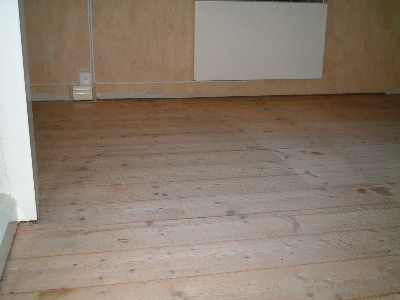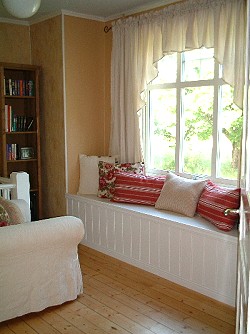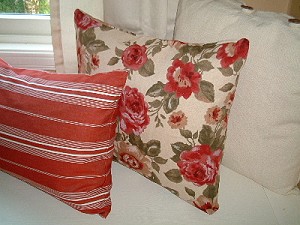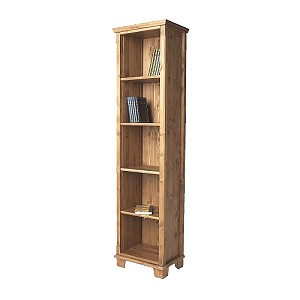 Pillows I've made for the reading nook window seat...all that's left is the seat cushion.
Reading nook BEFORE......DURING...........and AFTER.
Floor's now sanded and looks great! All that's missing is a runner. :)
Reading nook furnishings includes this pine bookcase, the cushioned window seat
and a nice, cozy chair (which I've yet to find)..original chair is TOO large for
the space. Will be done in soft mocha...cappuccino...rusts...cream....nice and comfy.
The inset portion of the window area has been painted a rich mocha. This same
color will be used in the front entry hall, on up the staircase wall.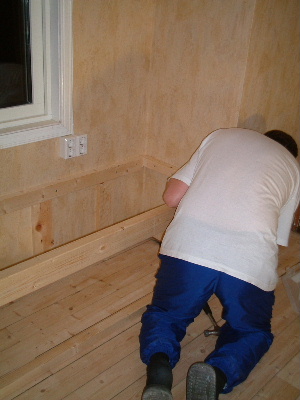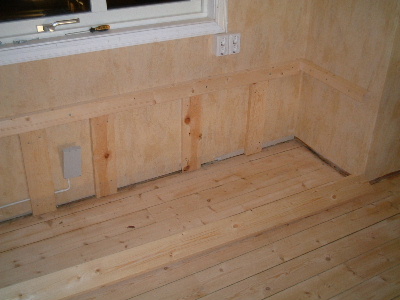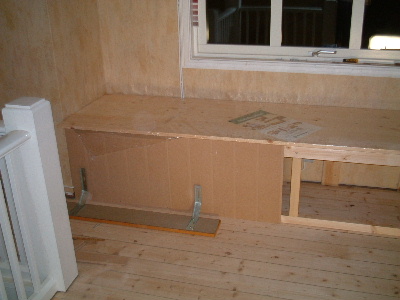 Kent did a GREAT job building this and it's one sturdy piece. Can't wait to use it.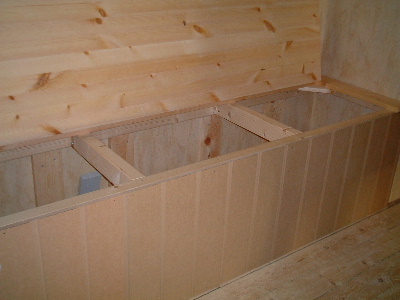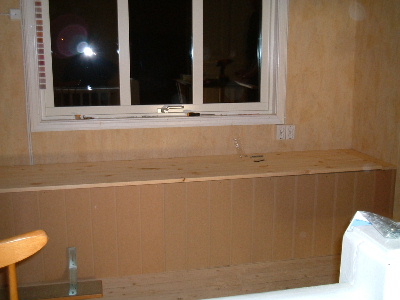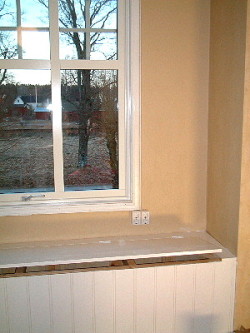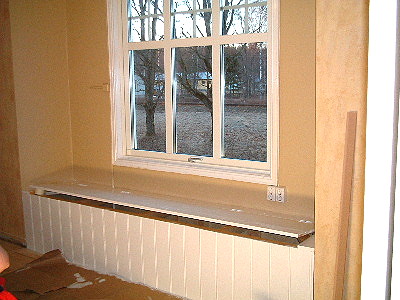 Not only is the window seat functional for relaxing, reading, etc...but it has a lot
of storage as well. It's going to be a great place to read!


---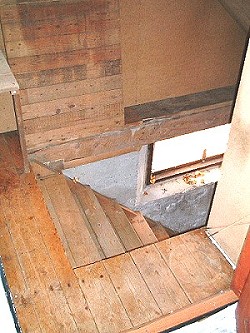 Entry to cellar BEFORE......and AFTER.
Think we'll have Leif (Kent's dad) do some painting here.
---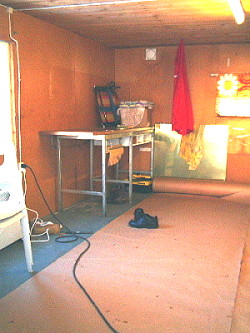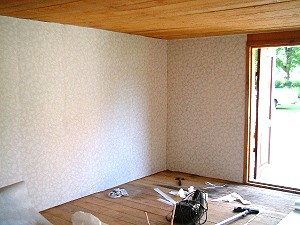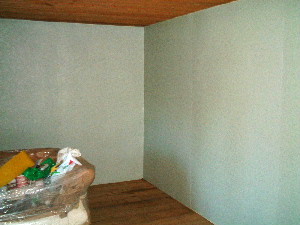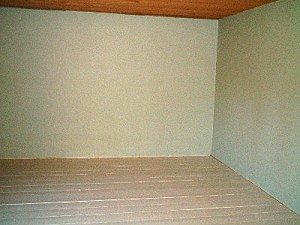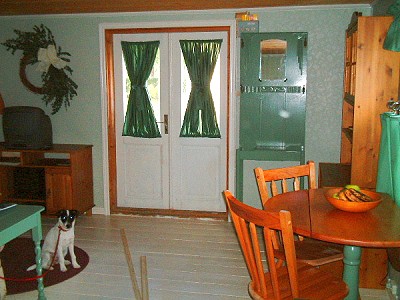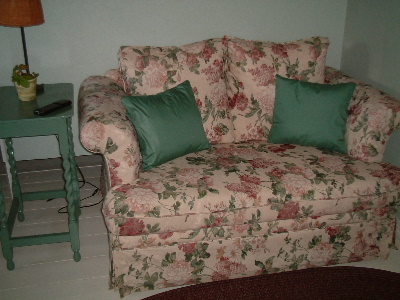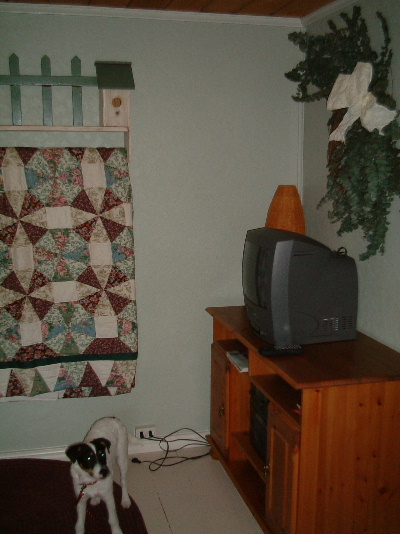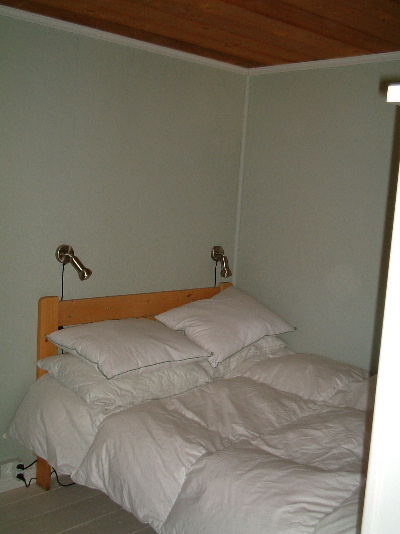 Guest house BEFORE................DURING..................and AFTER.
YOUR home when visiting us...wood flooring and ceilings.
We'll paint the plank flooring, as it was used primarily for a work room thus some
spilled oil makes it too difficult to varnish. Think it'll look nice painted as well.
Well, Kent finished the painting today...we really like how light it's turned out.
Accents here will be deeper green painted furnishings with honey pine pieces as well.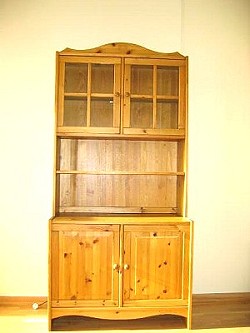 Auction find cabinet will hold all my antique china and glassware.
---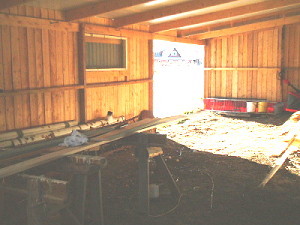 Kent's "Playroom".....BEFORE...........DURING............and AFTER.
A LOT of work to do here! He wants a place where he can kick back...nice
leather recliners, t.v., stereo, etc...will take some time.
---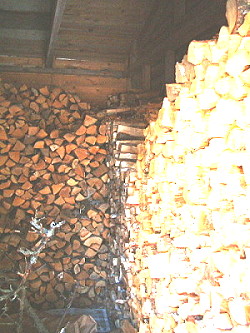 Firewood House. May be moved in order to have double car garage.
---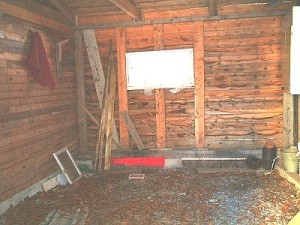 Garage BEFORE.......DURING........and AFTER.
Kent will knock down the forward wall to expand space, insulate, etc.
---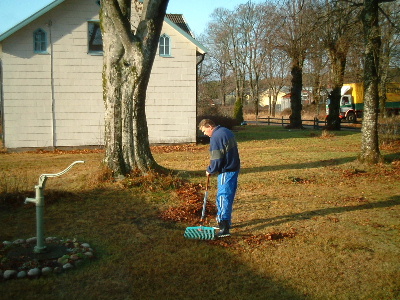 Kent raking autumn's leaves from lawn...UFFDA!